The HubSpot Synapse enables data synchronization between HubSpot standard objects and Syncari entities using the HubSpot API. After the Synapse is Authenticated, you can Activate the HubSpot Synapse, which enables Syncari to replicate the HubSpot schema and make it available within the Unified Data Model.
Using Sync Studio, you can map HubSpot objects to Syncari entities, and HubSpot fields to Syncari fields. To accelerate the setup and configuration of these pipelines, Syncari provides a default mapping for the standard objects and fields in HubSpot as an option you can chose.
Synapse Capabilities
Schema Discovery of Standard Objects and Custom Objects**
Bi-Directional Sync of Standard Objects and Custom Objects**
**Note: If you connected the HubSpot Synapse prior to January 20, 2022, you will need to re-authenticate the synapse in order to sync with Custom Objects.
Pre-requisites
Let's get started! First, navigate to the Synapses section, find and drag the HubSpot Synapse onto the canvas.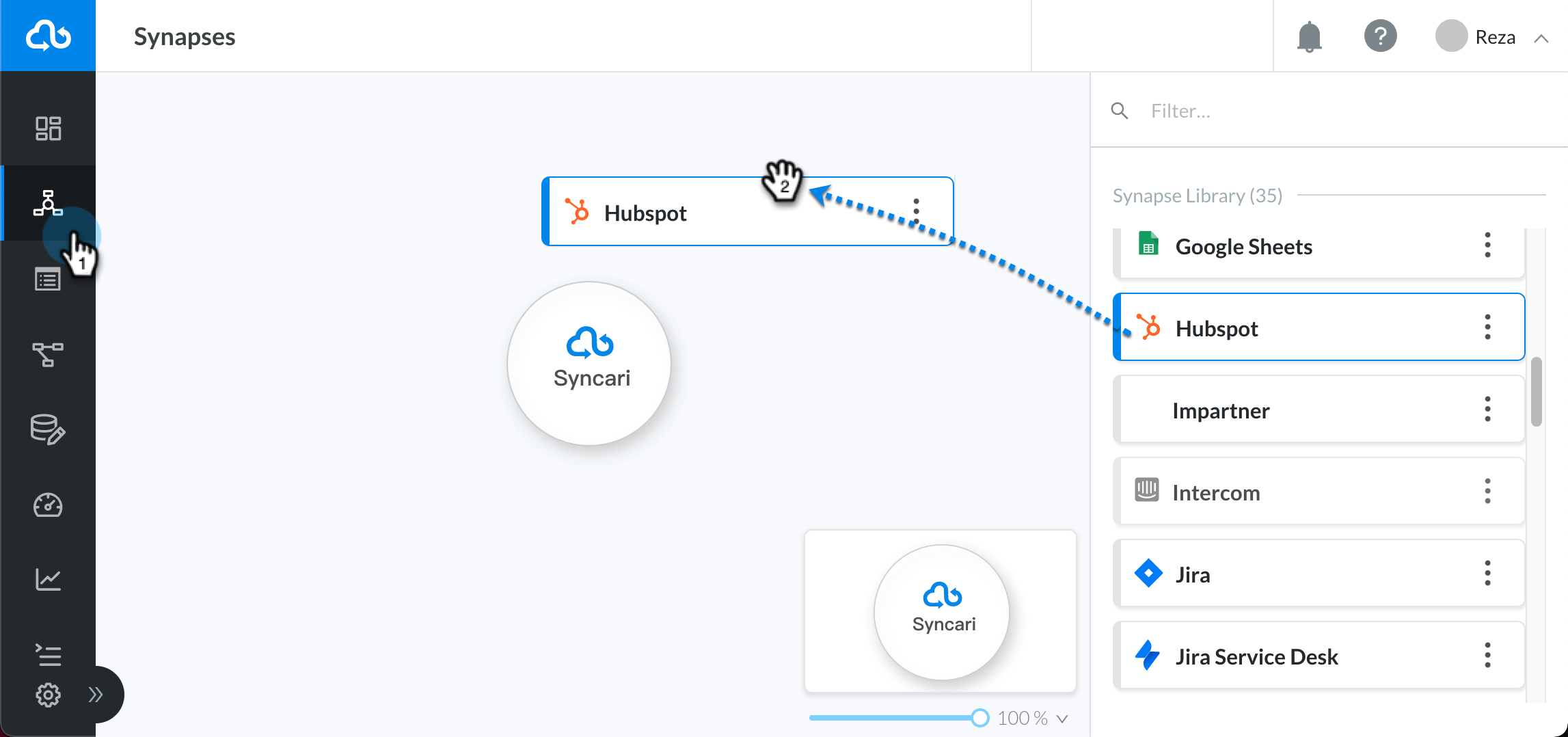 You are now presented with the Synapse configuration modal. Enter a Synapse Name and Portal ID then click Next.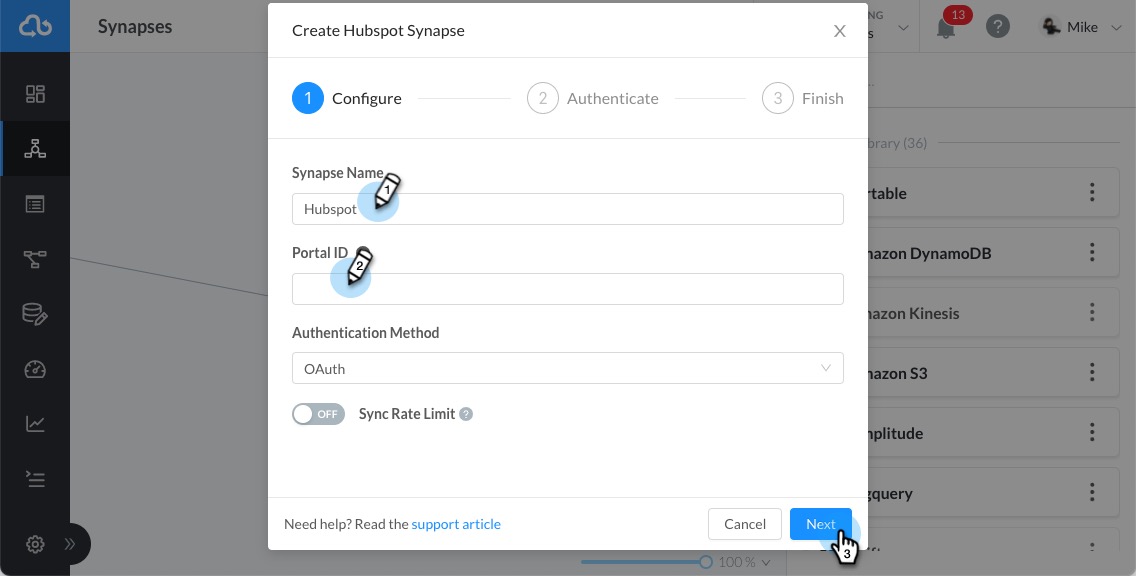 The Portal ID is the unique identifier for your HubSpot account. Your HubSpot Portal ID can be found by logging in to your HubSpot account and clicking on the profile menu at the top right corner of the screen. Copy the ID that shows below your HubSpot instance name.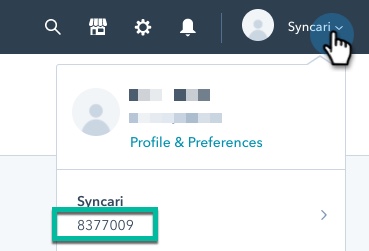 Click Authenticate. A pop-up window will open.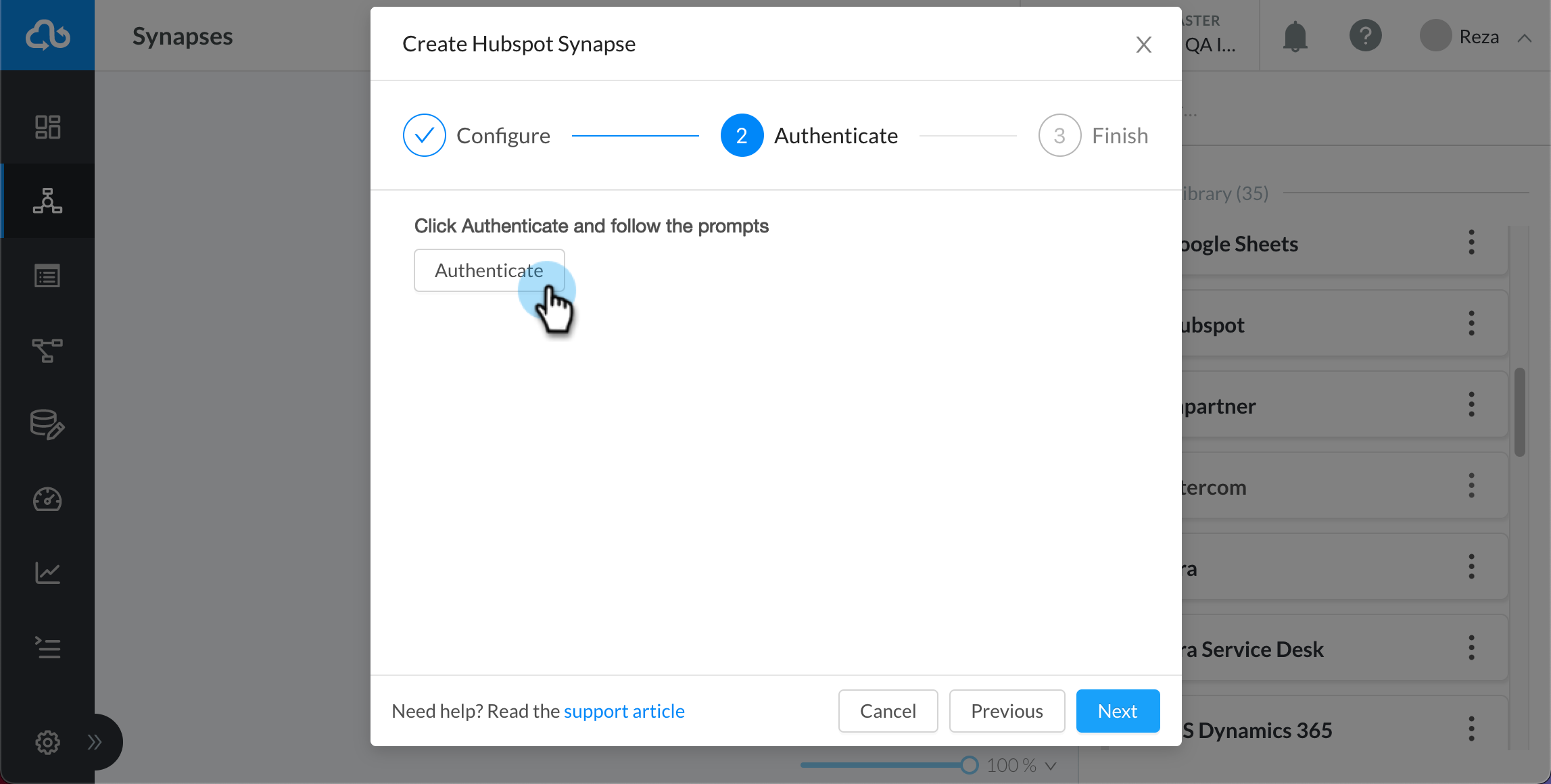 Login to HubSpot . I'm going to use Google Single Sign-On, but you can use any method that applies to you.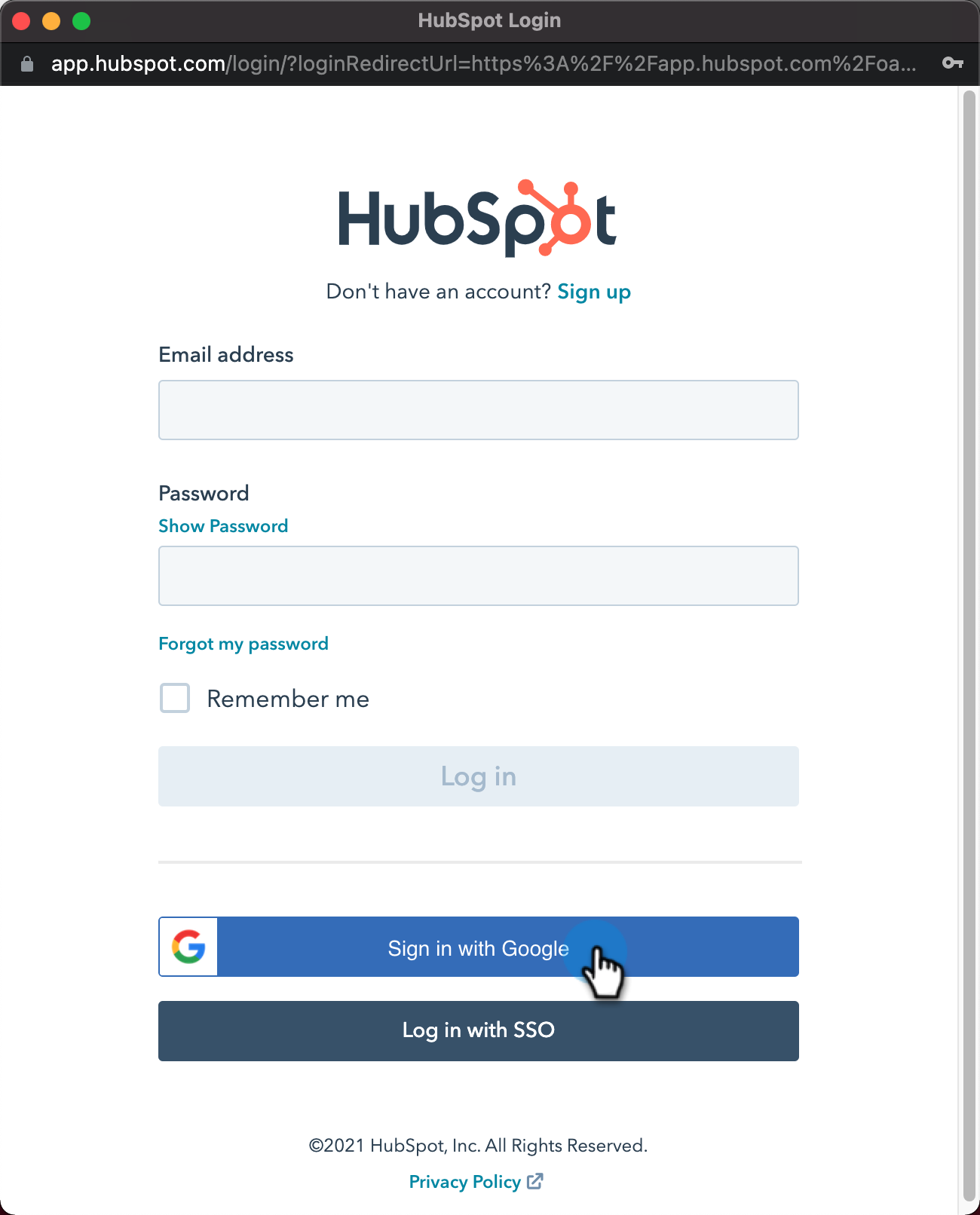 Now select the HubSpot account you want to integrate with Syncari.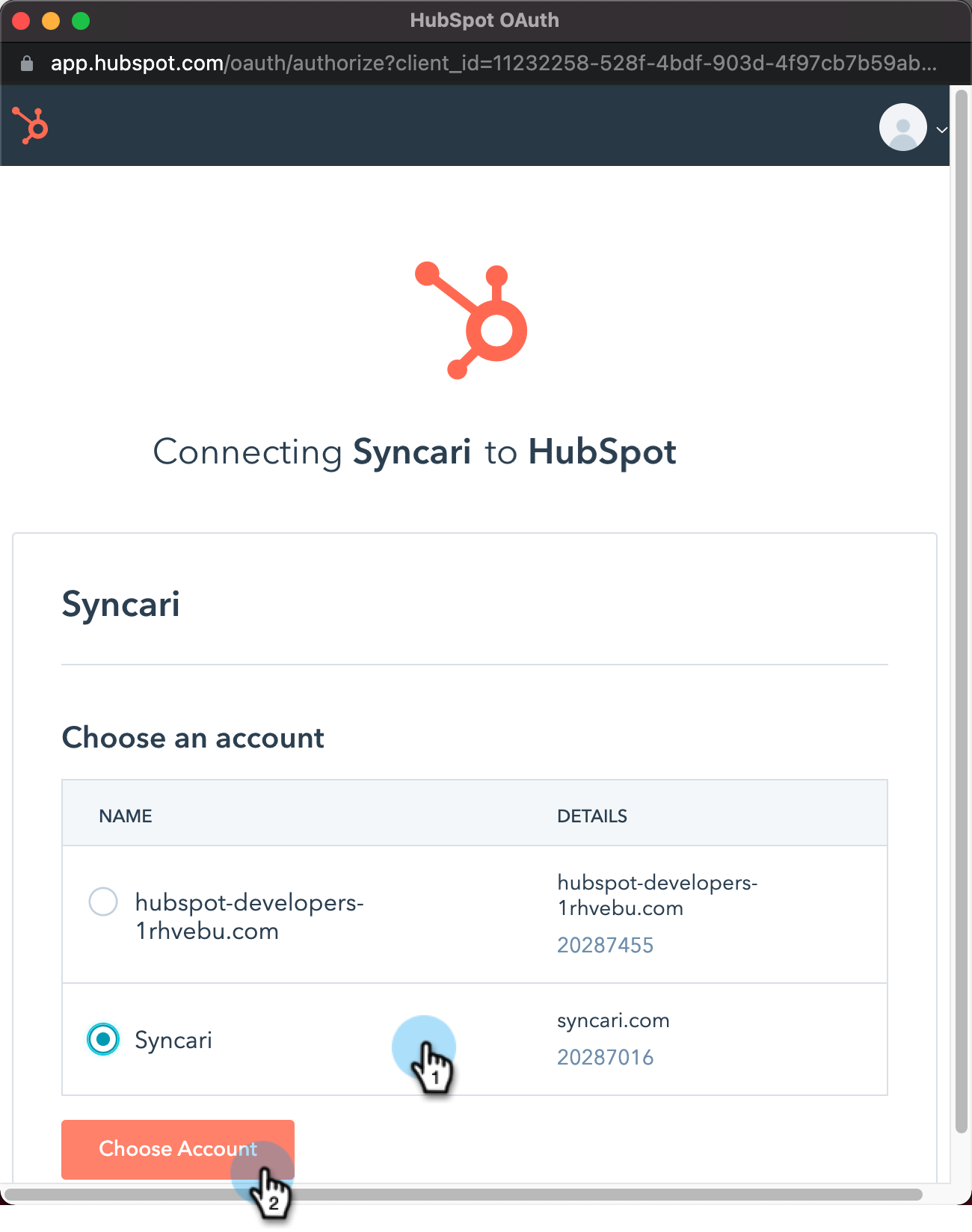 Click Connect app.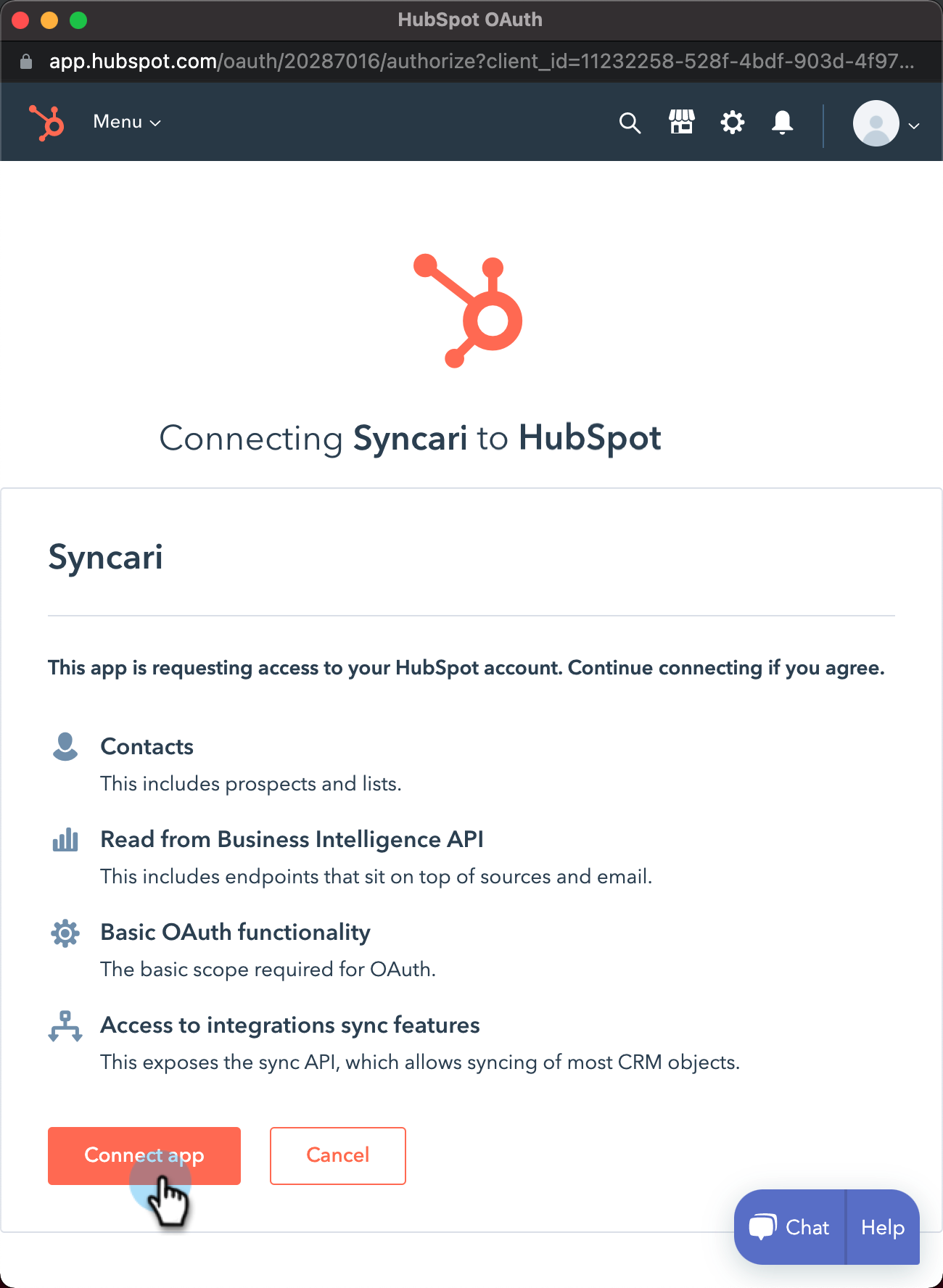 At this point, you should see confirmation of successful authentication, click Next.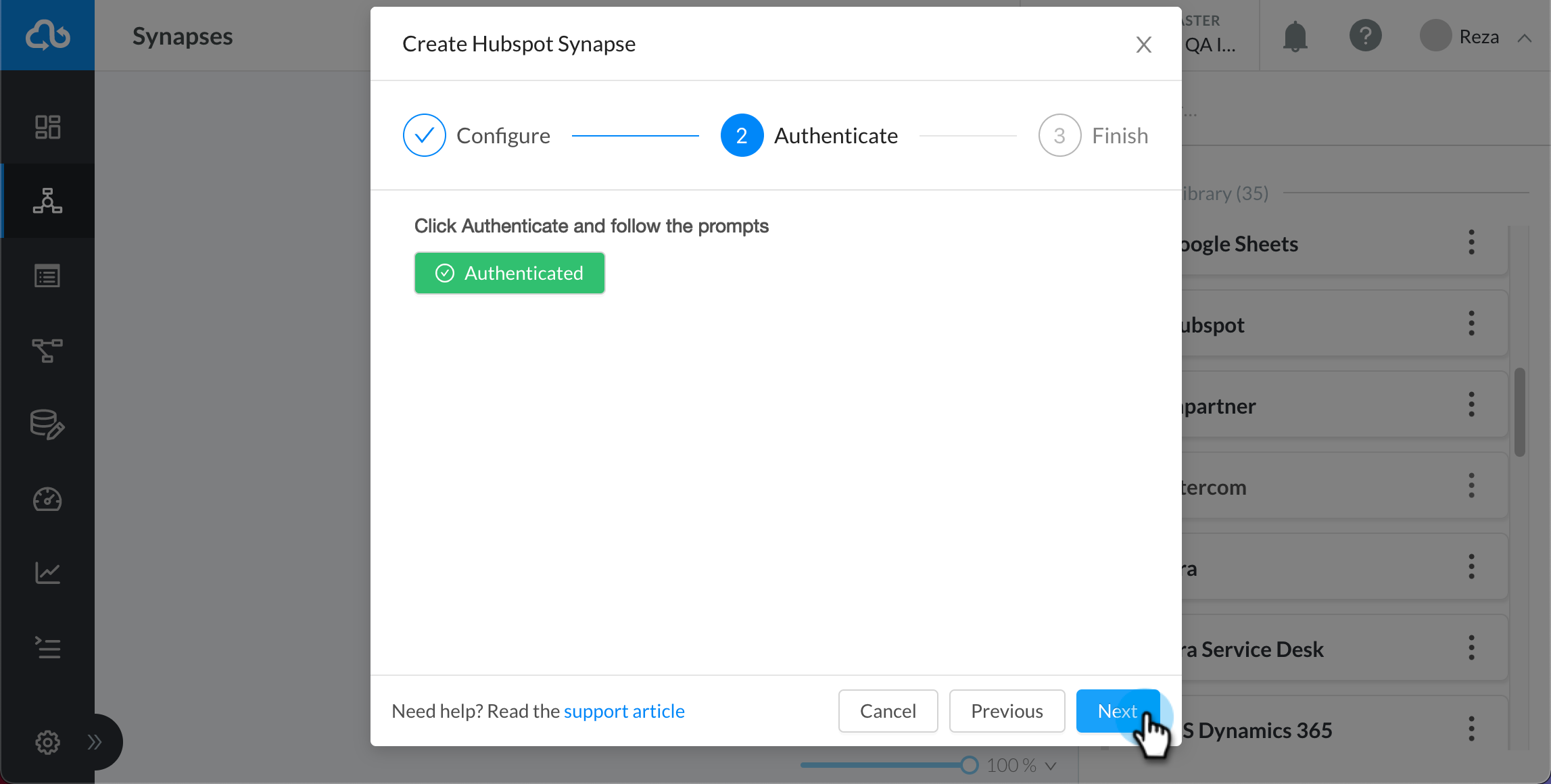 To activate your Synapse without automatic default mappings, click Make Synapse Active.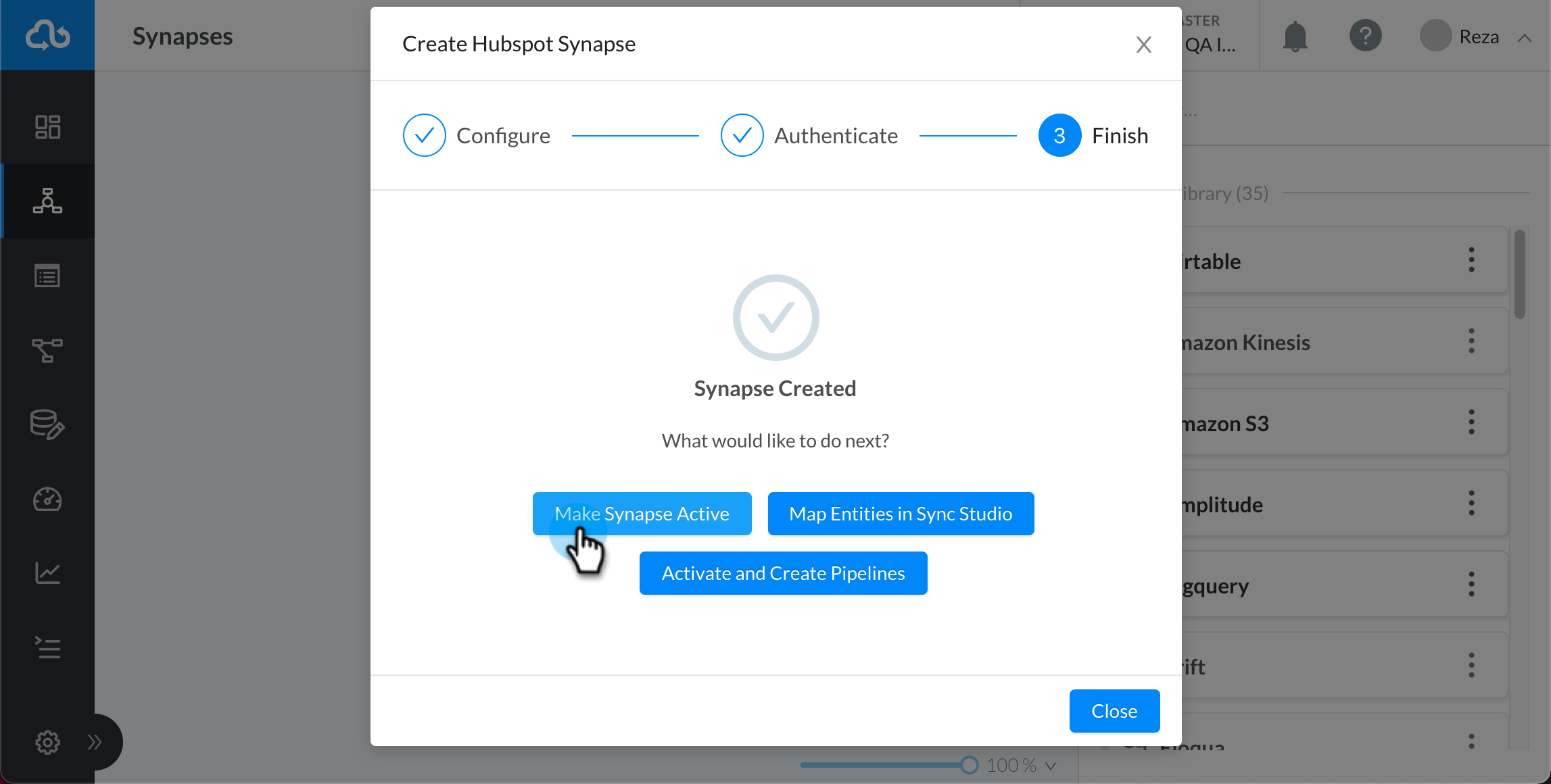 Note: Should you want to leverage the automatic default mappings, use Activate and Create Pipelines.
Finally, Click Close.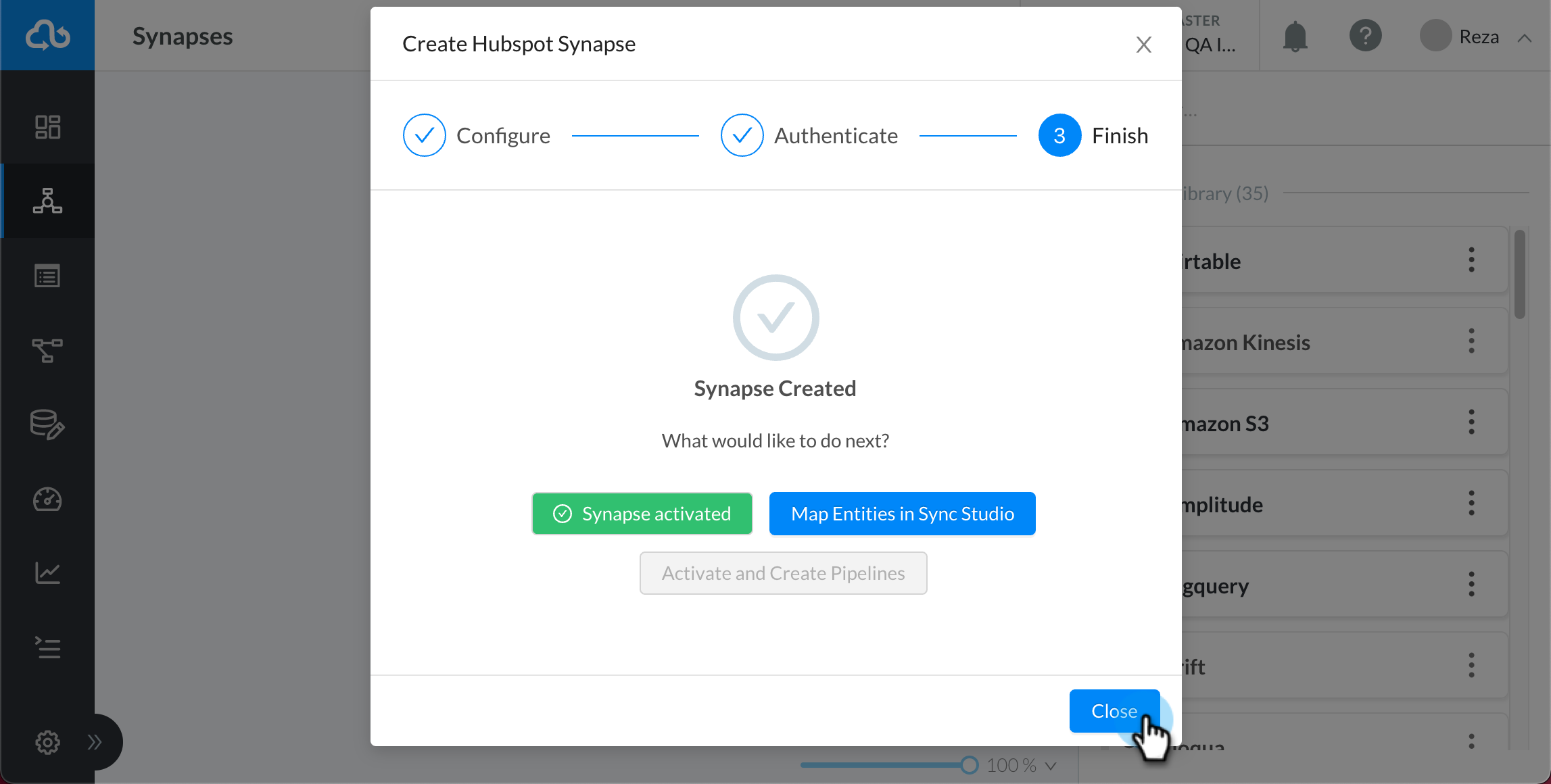 Congratulations! You have now established a connection between Syncari and HubSpot .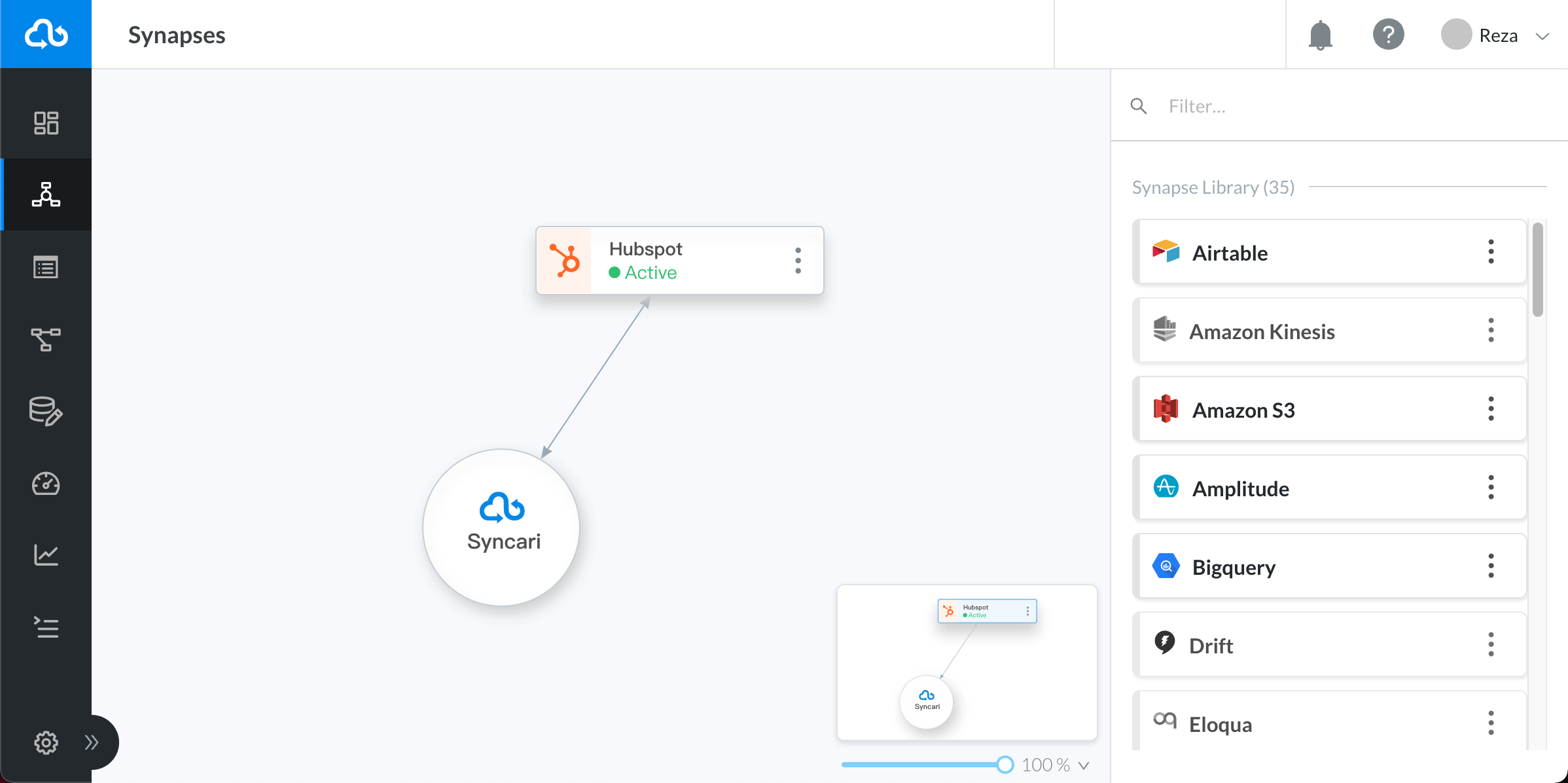 Note: At this stage, Syncari is not actively synching data to or from HubSpot .
Default Mappings
Should you choose to Activate and Create Pipelines, the following default mappings will be created:
Download as CSV.
Uninstall Syncari App
Should you ever wish to de-activate the integration between Syncari and HubSpot , you'll need to:
Sync Studio: Pause Pipelines with HubSpot Source or Destination
Synapse Studio: De-activate the HubSpot Synapse
HubSpot : Uninstall Syncari Application
Once you're done with the first two steps, here's how you'll find the Syncari application and remove it from your instance of HubSpot :
1. Log into HubSpot . Go to Settings > Connected Apps.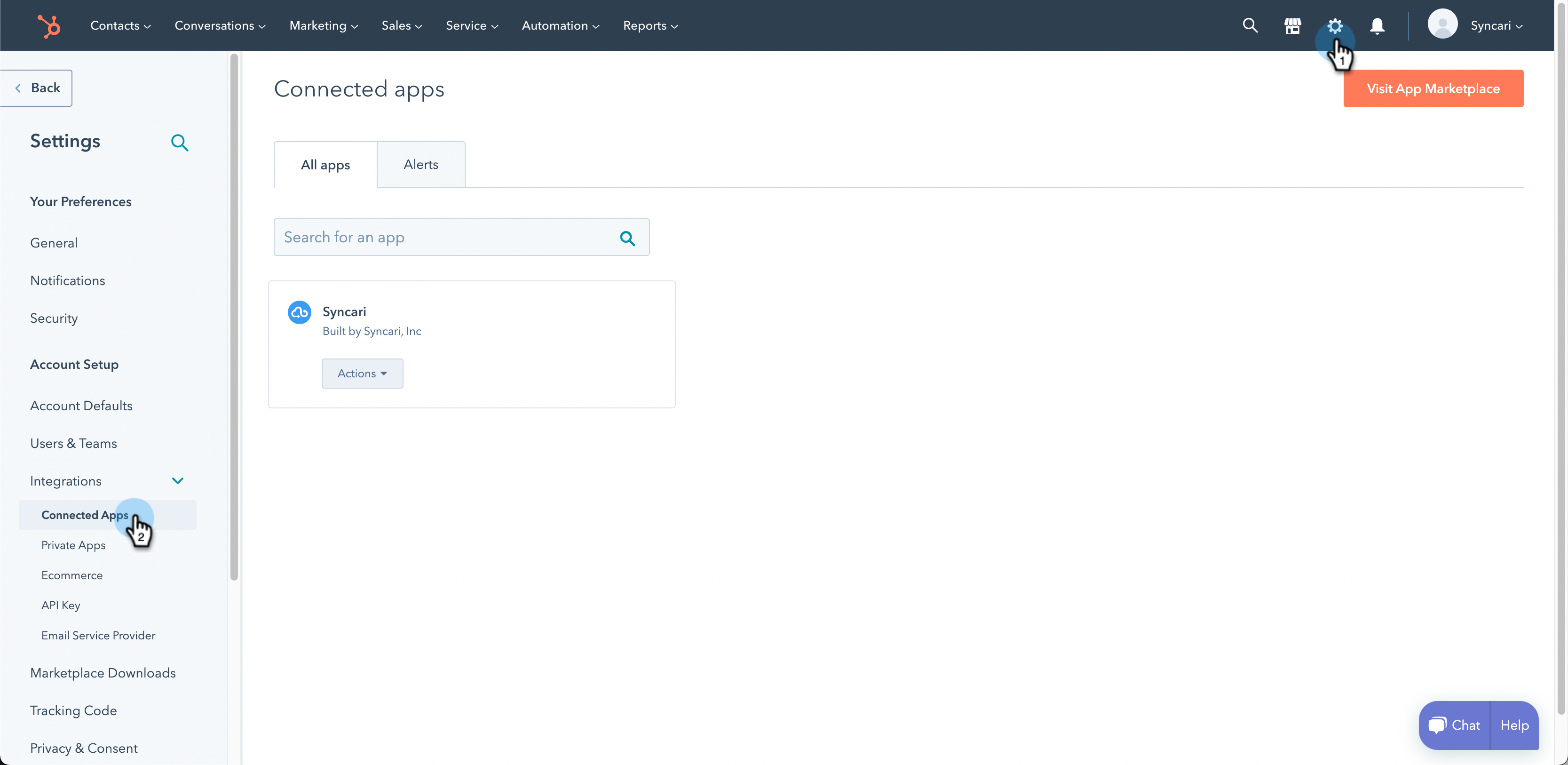 2. Once on the Connected Apps page, under the Syncari app's Actions menu, select Uninstall.
3. Confirm by typing in the word "uninstall" and clicking Uninstall.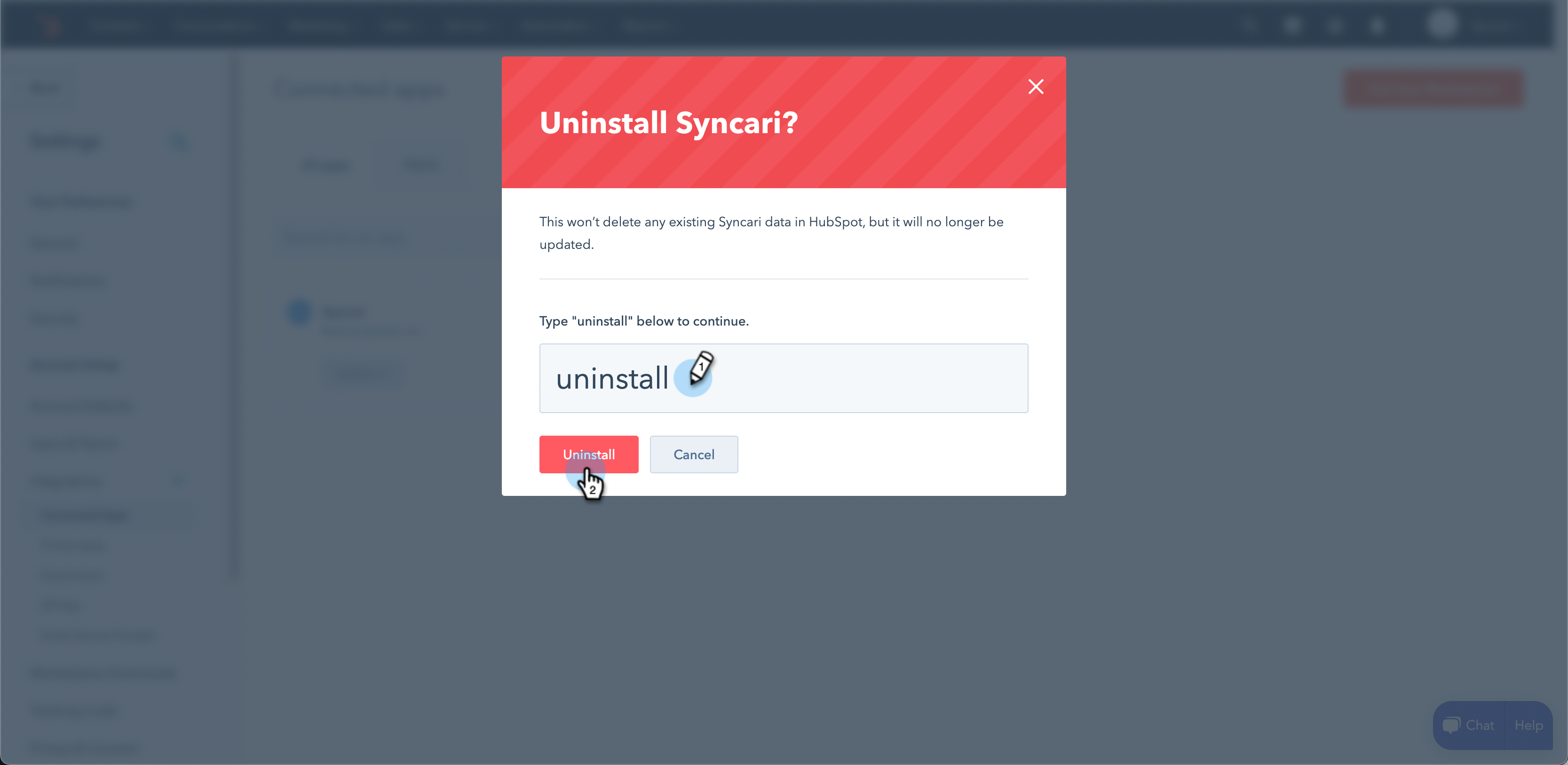 4. Your feedback is important to us so please do provide it and click Done.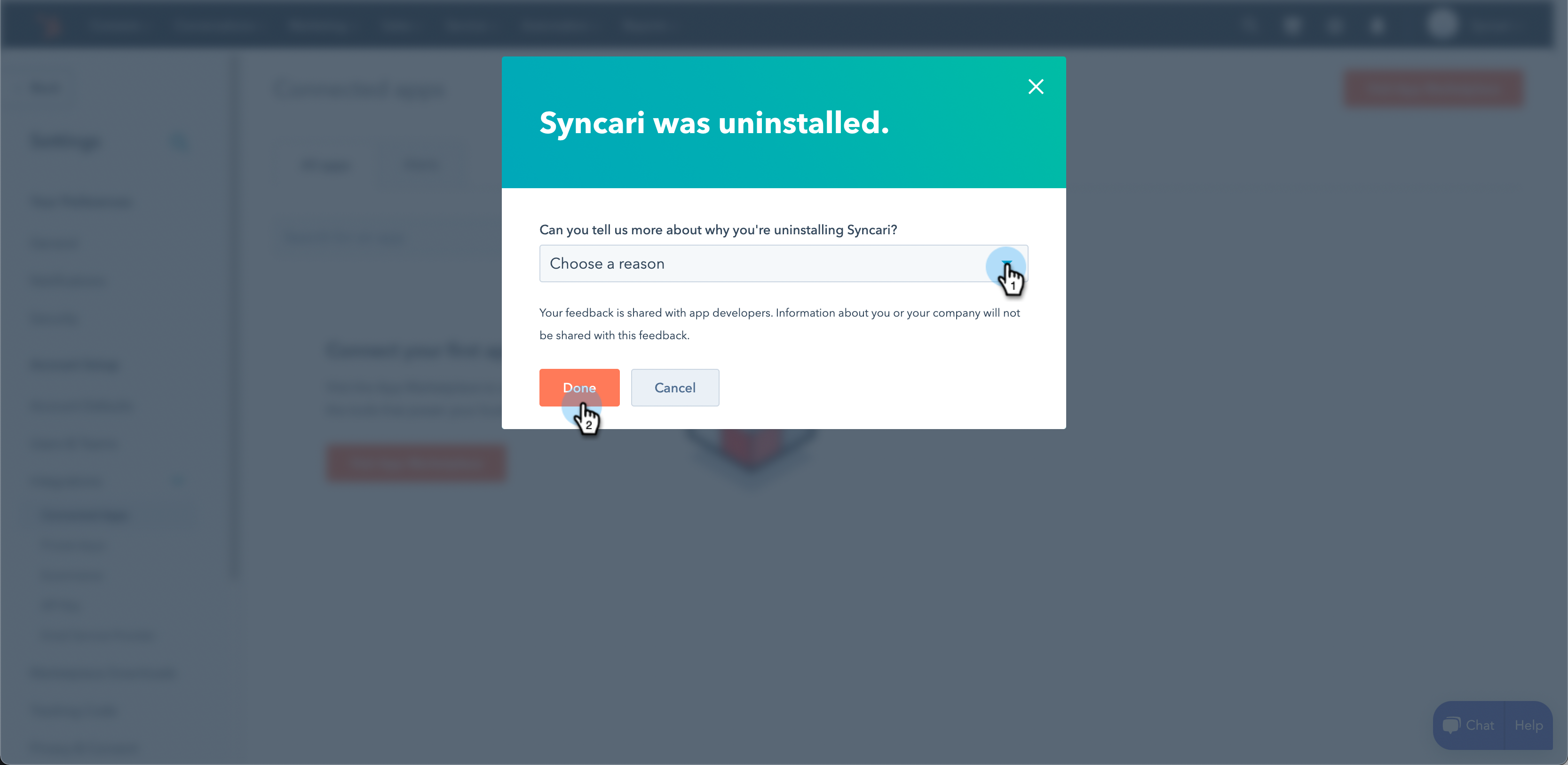 You'll notice the Syncari application has now been removed from your instance of HubSpot .
What's Next